RISE was founded in 1987 and our purpose has remained constant for more than 30 years.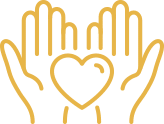 our mission
Creating opportunities for and with people. Since 1987, RISE has been changing lives with quality services and programs for individuals and families.

our services
RISE provides services that support children, adults, and families throughout Arizona, Utah, Oregon, and Idaho.
our values
Committed to safety, equality, and choice, we place service above self and encourage our team members to do all they can to exceed expectations.

our vision
To support the total person physically, mentally, emotionally, socially, and spiritually.
What Makes Us Different?
At RISE Services, Inc., the foundation of what makes us different is our belief that it is possible for people of all ages and disabilities to lead productive lives with the right support and assistance in place. Our job is not to do things for individuals or make decisions on their behalf. Our goal is to nurture, advocate, and support them so they can:
Participate fully in their communities
Make decisions for themselves
Personally grow
Provide safe and loving homes for their families
Accomplish tasks on their own
Discover what they like and don't like
Expand their personal world
Through flexibility, creativity, commitment, integrity, and respect for those we serve, one person can truly make a difference in the life of another.
What We Do
The skilled professionals at RISE Arizona help others live the life they imagine for themselves through our Day Services, Employment Services, Family Services, Residential Services, and Early Intervention Services.